Product Description
Reviews
Details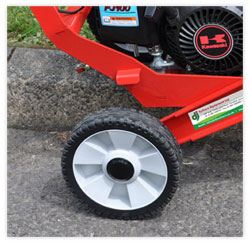 An extremely robust design, this edger has low noise and exposure to vibration enables this machine to be used for over eight hours.
The third wheel seen on the left, drops down to run in the gutter giving the operator balance and control when using the Bushranger edger along kerbs. This gives much better stability in what is one of the most difficult areas to edge.
The cutting edge tilts both left and right so undulating ground isn't a problem ensuring a nice neat edge is cut.
Powered by the advanced Kawasaki 3.1hp FJ100 4 stroke OHV engine, the Bushranger has loads of power making it the ideal choice for the demands of contractors and local authority users.