Product Description
Reviews
Details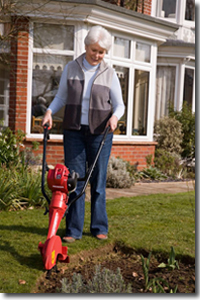 We all know that cutting your lawn makes your garden look good however, it really doesn't look tip top until the edges are clean and tidy, does it?
When faced with edging, you can do it the old fashioned way using edging shears, which is labour intensive and time consuming or, you may prefer using a Strimmer which tends to be difficult to control and not so accurate. Both usually result in the loss of definition or, in the case of path edges, you use so much strimmer cord trying to clear those tough grass stems.
Then there is the problem of cutting a new edge once in a while to redefine your flower beds. This job is usually undertaken with a half moon and line and leaves you with back and leg ache for days!
Well, if that strikes a chord, you have now found the solution, the Atom Lawn Edger. Made in Australia, this lawn edger is just that bit different and makes the job of edging borders and trimming path edges an absolute breeze.
The Atom Lawn Edger Deluxe can quickly cut a new edge or trim fresh growth in record time with no fuss or bother. It follows curves, cuts up against walls, patios and terraces. Not only that, it is lightweight so it won't give you the back ache and its so easy to handle it will be one of those garden tools you wish you had acquired years ago.
The Deluxe model features more comfortable handles and is structured to smooth out vibrations than the standard lawn edger. It also has a Honda 4 stroke 25cc engine that runs on standard unleaded fuel and is much quieter and smoother than the 2 stroke alternative.
The Atom Lawn Edger Deluxe takes the pain out of cutting edges and will leave your garden with that well manicured finish allowing you to sit with a cup of tea or a fine glass or two admiring your NOT so hard work!